If you are a non-EU citizen and are planning to move to Italy on a long-term basis, but do not qualify for a work visa, you may be interested to know that several other types of long-stay visas are available.
The application process can take a couple of months, depending on the type of visa, and once in Italy, you need to apply for a residence permit.
If you are interested in knowing how to apply for an Italian Visa, take a look at our guide.
How long you can stay in Italy without a visa
Because Italy is part of the European Union, EU citizens enjoy the right of free movement so they can move, accept job offers and study in Italy without having to apply for a visa. However, EU citizens who wish to stay in Italy for more than 90 days must register their local residence.
Non-EU citizens, on the other hand, may stay in Italy for up to 90 days for tourism, business or study purposes, unless specific bilateral agreements are in place between Italy and their country of origin. Prior to their arrival in Italy, they must apply for a Schengen visa (Type C) unless they are visa-exempt citizens.
For more information on how to apply for Italian tourist visa, see our dedicated article.
90-day rule out of 180
To control the entry of non-EU citizens into the Schengen area, the so-called "90 days in 180 rule" was established. This means that foreigners can stay for a maximum of 90 days in a span of 180, which is to be calculated as a moving time frame, as it constantly shifts based on each additional day spent in the Schengen area.
It may seem like a very simple rule, but its application is often misunderstood, resulting in misinterpretations that can lead to staying longer than the allowed period and incurring penalties. To try to simplify the counting of days, an online calculator has been made available.
Penalties for non-compliance
The maximum permitted stay of 90 days cannot be extended except for documented reasons of force majeure.
Foreigners who enter or stay in the territory of the Italian state in violation of immigration regulations are punished with a fine of €5,000.00 to €10,000.00 (Article 10-bis Legislative Decree 286/1998).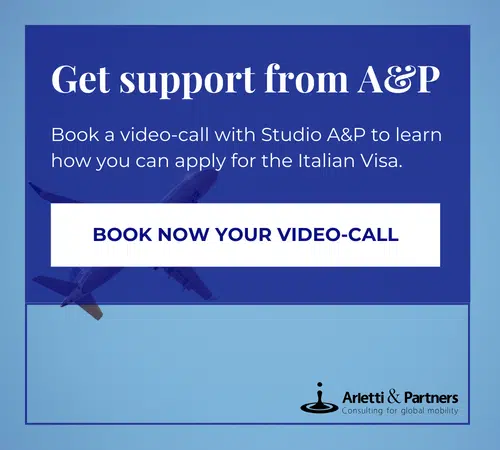 Declaration of presence
Non-EU citizens who travel to Italy for stays of less than 90 days may have to declare their presence at the local Police station within 8 days of arrival in Italy – i.e. Declaration of Presence.
This requirement does not apply to everyone: whether or not the declaration is required depends on a number of criteria, which can be checked in this dedicated article. In addition, anyone who hosts or provides accommodation to non-EU citizens has to provide a hospitality declaration (more information on this can be found here).
Failure to comply with this obligation can result in a fine, the amount of which can range from €160 to €1,100 (Article 7, paragraph 2-bis Legislative Decree 286/1998).
How to stay in Italy for more than 90 days: Long-Stay visa (Type D)
Non-EU citizens who intend to stay in Italy for more than 90 days must apply for the relevant national long-stay visa (Type D) at the Italian diplomatic representation in their country of origin or habitual residence.
Only after the visa has been affixed to their passports will they be able to travel to Italy, and within 8 days of entering Italy, they must apply for the corresponding residence permit.
Italian D visa requirements
The first step in applying for a D visa is to book an appointment at the appropriate diplomatic mission or visa center and show up for the appointment with supporting documents.
Supporting documents may vary depending on the type of visa and country of origin. However, these are the documents usually required:
Completed visa application form
Valid passport/travel document
Photocards
Health insurance
Family status certificates (e.g., marriage certificate, birth certificates), if traveling with dependents
Receipt for payment of consular fees
After the appointment, the authorities will hold the passport and process the visa in about 2-3 weeks (times may vary depending on the country and circumstances).
Types of long-term visas
The type of Italian visa to apply for long-term stays depends on the purpose of your stay in Italy. Here are some of the most common types of visas for long-term stays:
Family Visa
This type of visa is available to non-EU citizens who want to join a family member who has already obtained a right of residence in Italy. There are two main types of visas for family reunification in Italy, and once obtained, they will have the same validity as the visa granted to the main family member.
If you are interested, take a look at our guide on family reunification visas.
Study visa
The Italian study visa allows non-EU citizens to enter Italy for study purposes. Applicants must demonstrate enrollment or pre-enrollment in a course to be taken in Italy. In the case of a single course, the validity of the visa will coincide with the duration of the course, in each case for a maximum validity of 1 year.
The student permit allows holders to work part-time in Italy and, upon expiration, can be converted to a work permit.
If you are interested, take a look at our guide on study visas .
Internship visa
The Italian internship visa allows non-EU nationals to conduct an internship in Italy. Applicants must have undergone vocational training or education in their own country.
The duration of the internship for non-EU citizens is at least 3 months and no more than 12 months. The visa is issued with the same duration.
If you are interested, take a look at our guide on internship visas.
Golden visa
The investor visa (also known as the "Golden Visa") is an attractive option for non-EU citizens who choose to invest in strategic assets for the Italian economy and society.
There are 2 conditions for issuing and maintaining an investor residence permit:
The applicant must make the investment or donation declared in the visa application within 3 months from the date of entry into Italy;
The applicant must keep the original investment for the duration of the validity of the residence permit.
The investor visa is valid for 2 years, renewable in Italy.
If you are interested, take a look at our guide on investor visa .
Elective Residence Visa
The Italian elective residence visa is intended for foreigners who want to live in Italy without an employment contract, being able to support themselves independently (e.g., retirees, people with high incomes and financial means).
In fact, one of the basic requirements is that the applicant does not intend to sustain the time in Italy through work activities.
The elective residence visa is issued with a validity of 1 year, renewable in Italy.
If you are interested, take a look at our guide on elective residency visas .
Startup visa
The Italian startup visa is for non-EU citizens who intend to set up their own business in Italy, which takes the form of an innovative startup.
If you are interested in learning about the requirements the startup must have to obtain a visa, check out our guide on innovative startup visas.
If you are interested in Italian work visas, take a look at our guide on Italy Work Visa.
If you need support for your Italian visa application, check out our Immigration services to Italy.